Robot Bar Sales
Purchase A Robot Bar
Do you want to make your birthday party, business or private events more exciting? Add an innovative feature to your event or restaurant with the most advanced robotic technology. Robot Bar is exactly the same as you want.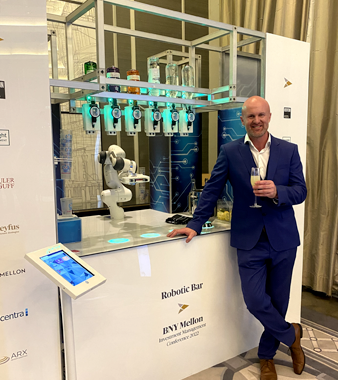 Robot Bar can work as a Bar Tender, Waitress or Sales Assistant and can make a huge variation to your restaurant. Give your customers a good dining experience to add a shine to your business. Our Robot Bar includes Amy Waitress and Automated Robot Bar.
When you hire our Robot Bar, your event or business publicity and marketing will be the most noticeable in the town. The Robot Bar can be programmed to perform various functions as the work of serving customers, carrying trays of snacks or drinks, take orders and serve them. Amy Waitress takes orders and collects from the automated robot Bar.
The Robot Bar can also meet and greet your guests or customers. Whether you hire a robot bar for a short time or a long time, you can take a lot of repetitive sales tasks from Robot Bar. The Robot can also convey your pre-recorded message according to the event or restaurant venue.