Setup A Business – Robot Bar
Benefits of Starting a Robot Bar-as-a-Hire Business
Robot-for-hire business is the next big thing for every industry that needs manual labor. For pubs, bars, lounges, restaurants, event venues, and other hospitality businesses, robot-bar-as-a-hire is a gamechanger.
Why Start a Robot Bar-as-a-Hire Business?
To Carve Yourself a Piece of Future – a Future That's Inevitably Ruled by Robots!
Service robots are dominating the hospitality landscape across the UK and beyond. A fast-growing number of businesses in the industry are deploying a range of service robots for every purpose imaginable – both functional and aesthetic. Robot bars, for many of them, prove to be powerful sources of differentiation in an otherwise overcrowded market.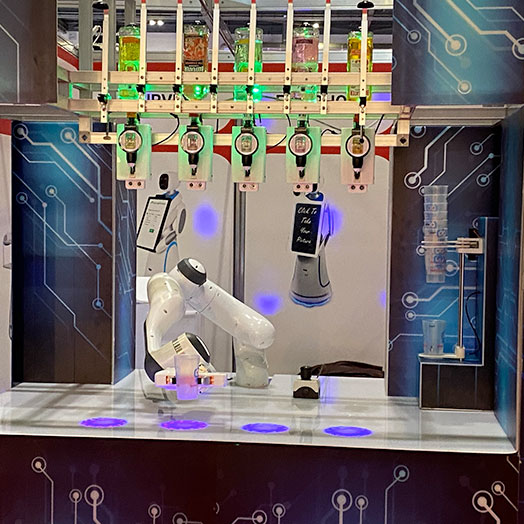 Benefits of Hiring Robot Bars
A Futuristic Experience
Customers get a taste of the future, and they love it. They want to interact more with the robot bar, which translates into more orders with the establishment
Go Viral For Free On Social Media
Guests find themselves drawn to the robot bar. They interact with it, take lots of selfies & groupies with it, and post them on social media. Every customer becomes a free advertiser
Highly Reliable
Robot bartenders never get tired; they can work for several shifts at a stretch without any rest or complaints. No vacations, no human errors, and no safety concerns. They run like clockwork.
Save Money
Besides being more predictable and reliable than humans, they also save a lot of money on wages, benefits, bonuses, training expenses, onboarding costs, and other HR costs.
Fully Automated
Robot bars are equipped to perform all functions of a bartender – show menus, take orders, mix cocktails right in front of the customer, and serve them in real-time
Oh, and They Remember People Too
The latest robot bartenders are equipped with cutting-edge tech like AI, voice sensors, facial recognition, and so on, which help them recognize customers and give them personalized service
Robot Bar-as-a-Hire: Lifeline of the Pubs, Bars, and More
Successful Model
Hit hard by the pandemic, everyone from pubs to restaurants is struggling to reduce their costs. While a robot bar sounds like a great option, most small businesses cannot afford the huge investment. For them, the robot bar-as-a-hire model is the only way to take advantage of robot bars
High Demand
Robot bars are low-maintenance, non-stop workers that don't get paid wages. Also, they bring lots of publicity. Naturally, more and more businesses want them. The demand is not dying anytime soon.
Captive Market
Robot bars are advancing fast. The newest models today feature AI, facial recognition, and other technology. But, every time new tech arrives, it's not economical for businesses to sell their old robot bars and buy new ones. Therefore, a robot bar-as-a-hire model allows them to deploy the latest robot bars with the latest tech and features without burning a hole in their budget.
Robotics is at the Cusp of a Revolution. Do You Want to Ride the Wave?
Start Your Own Robot Bar-as-a-Hire Business Today